Employee Spotlight – Barry Hoff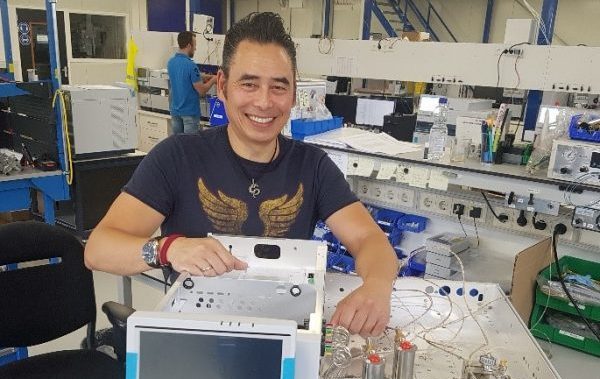 Barry has always had an interest in mechanics – the fascination of why and how is what brought him to start a career in the Quality Control department. Throughout his career he has worked for many different companies within the industry. Barry has been with SCION Instruments for a few year now as a Final Assembler for Custom Solutions GC's – "I couldn't turn down the opportunity to build Custom Solutions GC's with former colleagues, therefore I didn't hesitate and quit my job at Oil Tanking. I have no regrets of that decision and still am proud to be one of the seniors that helped on this location".
Can you describe a typical day?
A typical day starts with coffee and a five minute Daily Management meeting. I would then start assembling where I left off the day before or start on a new order. The GC cabinet will be picked by Stockroom and completed with all parts needed to finish assembling, then put on a trolley in a waiting room with a priority number. My role as the assembler is where the cabinet would be checked for any faults and if all parts needed to assemble the GC have been picked. The Top and Side Covers are removed and kept aside and the GC is ready to be assembled.
What do you like most about your job?
Working as an assembler on Custom Solutions GC's is very rewarding – being able to transform an empty cabinet into a solid working instrument together with the Final Test department. Customer feedback makes my day especially when they are pleased with what the GC is doing and more. It confirms my dedication to this line of work.
Also, being able to introduce new employees to this line of work, showing and explaining to foreign engineers and salesmen how we do this makes me proud of what we have achieved all these years.
Are there any challenges that come with the job?
Since Custom Solutions GC's are often complex it takes some time to understand how to assemble them. Mechanical skills alone are not enough to get a leak free, solid working instrument. To get an instrument better than our competition the specs must be set at extreme for the instruments to do the finest analysis. It has helped to get some Chromatography understanding over the years and after all the hard work there is time to relax.
What do you enjoy doing in your spare time?
At home I can enjoy playing guitar and singing in a Rock and Roll band – a trio formed by Drums, Contrabass and Guitar. Luckily not all weekends are filled playing music in different pubs so I can spend some time on making wooden cabinets or DIY around the house.
Keep in Touch
If you have enjoyed learning about Barry and his role within SCION Instruments, why not sign up to our infrequent newsletter via the white sign-up button below to be the first to see all the latest news and product information from SCION Instruments.