Oil & Gas
Supporting the Oil and Gas industry, our chromatography solutions, can meet the most demanding applications within the petrochemical industry.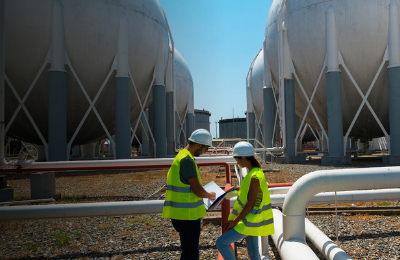 SCION Instruments is a leading supplier of Chromatography instrumentation and solutions for the Petro/Energy market. We offer a full range of chromatography solutions dedicated to the hydrocarbon industry, covering all key standardized methods such as ASTM, IP, EN, DIN, UOP, ISO and GPA.
Multiple Solutions are available for determining composition, trace contaminant levels and intrinsic product quality and value of various gas and liquid streams. These can compositional (liquefied) gas or liquid, natural gas, gasoline or gasoline blend streams, various types of oils and lubes, whole crude or biofuels.
In many cases, these standard analysers may be customized, to allow for increased additional application scope to improve the instruments efficiency & ROI. Special sample inlets for optimizing sample integrity or specific software solutions may be added in.
These analyser systems are always individually configured, tested, and delivered to comply to method. SCION Instruments analysers aim to always provide you with the confidence in your results: accurate, precise and fast.
Eclipse Reporting software for DHA, SimDist and Gas Analysis for the Hydrocarbon Processing Industry (HPI)
The SCION Instruments Eclipse SIMDIS Software is a solution that automates the data processing and reporting of Gas Chromatography analytical results for petroleum samples ranging from gases up to and including crude oil for DHA, Simdist and Gas Calculation applications.  This software is used with CompassCDS to create the required DHA, SimDist, Gas Calculation and FAME reports.
This solution allows refinery, environmental and independant laboratories and chemical plants to use one software package to process and report all petroleum samples, and can be used either stand-alone or in a network configuration. The client/server architecture of the software allows to process the analysis data from any PC workstation.
Eclipse includes predefined sample settings, component tables and formulas to provide a correct sample identification, and allows users to select from the extensive options to report individual components, true boiling points, physical properties and other DHA, SimDist or Gas calculations. User-friendly editors allow customization of the settings on-screen.
The example below shows a chromatogram using the Compass Eclipse software plug in, with combined Retention time vs boiling point curve. Eclipse makes it possible to easily obtain the boiling range distribution with different standardized methods, shown in the right handed column of the figure. Learn more about this application

Natural Gas (NGA)
Refinery Gas (RGA)
LPG, Ethylene, Propylene
Trace Oxygenates or Sulphur.
Detailed Hydrocarbon Analysis (DHA)
Simulated Distillation (SIMDIST)
Aromatics Analysis
Oxygenates Analysis
Sulphur contaminants
Transformer Oil Gas Analysis (TOGA)
Biodiesel Analysis