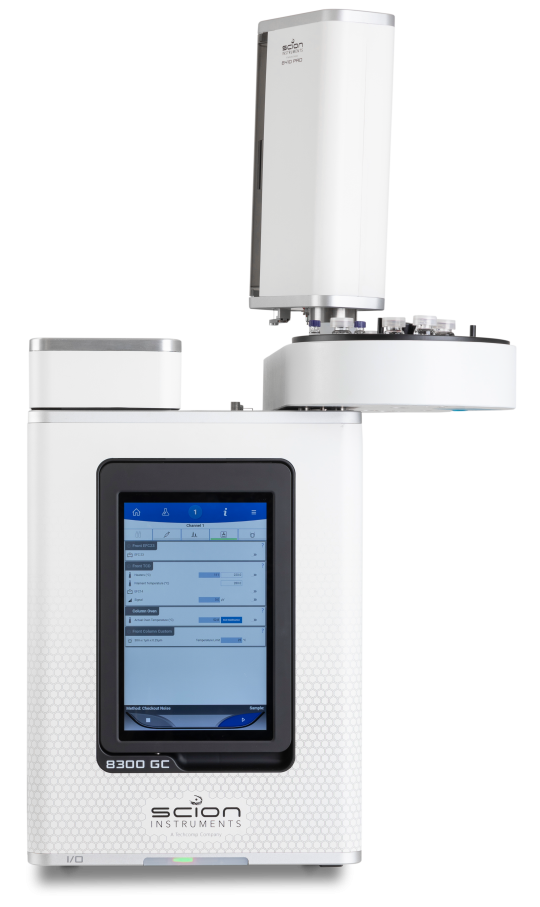 8300 GC Gas Chromatograph
8300 GC
GC Gas Chromatography
Less can be more! The SCION 8300 GC offers superior performance in the smallest form factor. This compact 8300 GC system is the perfect choice for those who require data from a maximum of two detectors, including a Mass Spectrometer, for their samples.
At only 32cm (12.6") wide, the 8300 GC is a true space-effective powerhouse, bundling flexibility to configure with the productivity and performance needed to generate the right results with confidence.
Setting a new stage for operational use, the new, ultra-large, front-mounted user interface offers an unrivalled experience in the lab, making the journey to your results as convenient as possible.
The 8300 GC is the perfect instrument for laboratories with limited space, delivering high performance in a compact, space-optimised design
Highlights
Compact footprint of only 32 cm (12.6″) wide
Fast ramping oven (170°C/minute)
Two channel architecture, with up to 2 injection ports and 2 detectors (including MS)
10″ High resolution full-colour touchscreen, 16 languages supported
Electronic flow control (EFC), 3 channels 0.001psi resolution
Full automation capabilities through CompassCDS software and autosampler