Crossgrade your data system to Compass CDS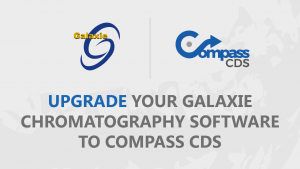 Users with existing Varian GalaxieTM data system can cross grade to the new Compass CDS system and maintain driver control for their existing chromatography instrument systems. Cross grading to the new Compass platform allows users to maintain their expertise gained in the Galaxie platform and now enjoy continued development and support with Scion Instruments new Compass CDS system.
The crossgrade can in many cases control the existing equipment and even enhance function if there have been updates to the driver.
Crossgrading is a very cost effective way of getting the latest software with continued support for you laboratory CDS.
There is a special offer available at the moment if you take a software maintenance agreement (SMA) we will provide the crossgrade software free of charge, on a like for like basis. **Terms apply.
If you would like to take advantage of this offer, please contact your local Scion office for details.
Offer expires 30th June.
** Scion Instruments will provide software free of charge. Customer is responsible for shipping, duties and taxes. Installation and start up support will be at prevailing service charges.
Compass CDS
Discover our Compass CDS here. For further information or to take advantage of this great Crossgrade offer, contact us today.
Keep in Touch
If you wish to keep up to date with SCION Instruments latest research and articles, why not join us on social media and sign up to our newsletters today?