SCION Instruments Flow Through Cell for Online Sampling
Introduction
The Scion Instruments Stainless Steel Flow Through Cell allows for high accuracy, reliable, at-line automated sampling of low viscosity liquid streams.
The Flow Through Cell is a simple design, consisting of a septum nut, Merlin Microseal ™ (23 Gauge) and a stainless-steel flow cell with an attached inlet & outlet tube of 75cm x 1/16" x 1.0 mm ID stainless steel. To establish robust connections the Flow Through Cell is standardly provided with high quality 0.75mm bore 1/16" bulkhead unions.
The Flow Through Cell can be installed in the 5mL vial position of the non-rotating sample tray of the Scion Instruments 8410 Auto Sampler. The installation of the Flow Through Cell still allows the sampling of other 5mL vials, present in the 8410's sample tray.
It is advisable  to operate the Flow Through Cell with a compatible syringe with 23 Gauge conical tip.
Maximum liquid operating pressure is 4 bar
If required, the Flow Through Cell  can be equipped with a valve to isolate the Flow Through Cell during maintenance. Please ask your Scion Instruments distributor for more information if this is required.
Merlin Microseal™
84742310 Flow Through Cell in Sample Tray 8410 Auto Sampler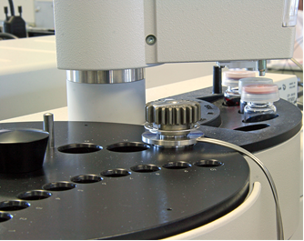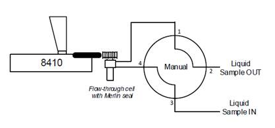 How to Order from SCION Instruments:
| | |
| --- | --- |
| Part number | 84742310 |
| Description | Flow Through Cell |
Download Application Note
You can download the complete Application Note: SCION Instruments Flow Through Cell for Online Sampling
SCION SQ GC-MS
There are two sampler options available, the 8400 and 8410. Find out more about the SCION SQ GC-MS.
If you wish to speak to a member of our team about more information, please don't hesitate to contact us. Or if you wish to keep up to date with SCION Instruments latest research and articles, why not join us on social media and sign up to our newsletters today?