SCION Instruments to attend Lab Supply
SCION Instruments are delighted to announce that we will be attending the 'Lab Supply' series of events taking place in Germany, running from August to November.
Lab Supply is a regional one-day trade fair for laboratory technology, aimed at those working in the fields of environment, food and industrial analysis, biochemistry, biotechnology, genetic engineering, molecular and cell biology, medical diagnostics and pharmacology. Trade fair entry is free of charge and you do not need an entry ticket.
You'll find members of the SCION Instruments Sales Team at the following events:
Frankfurt-Hochst – 26th August
Wien – 8th September
Berlin – 6th October
Hamburg – 28th October
Leverkusen – 24th November
Our team are looking forward to travelling once more, and will be happy to welcome you to our booth where we can discuss all the latest news, developments, and applications. They will also be showcasing all our latest products, and will be keen to discuss how SCION Instruments can help deliver your Chromatography solutions.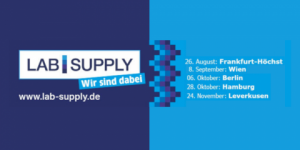 If you are planning on attending a Lab Supply event and would like a chance to meet with us to discuss your needs, please contact us to arrange a time. Alternatively, feel free to visit our website or send us an email to find out more about our product range.
We look forward to welcoming you in Germany.