SCION Instruments gears up for new product launch at Pittcon 2020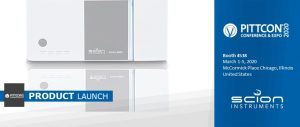 New Product Launch for SCION Instruments
SCION Instruments are gearing up for the exciting launch of a new product at Pittcon 2020 in Chicago next week.
We would be delighted to see you at the show and unveil the product for you. Come and join us!
Otherwise, watch for news of the release and get in touch to hear more about the product and what it can do for you. We look forward to hearing from you.
Watch our website at www.scioninstruments.com