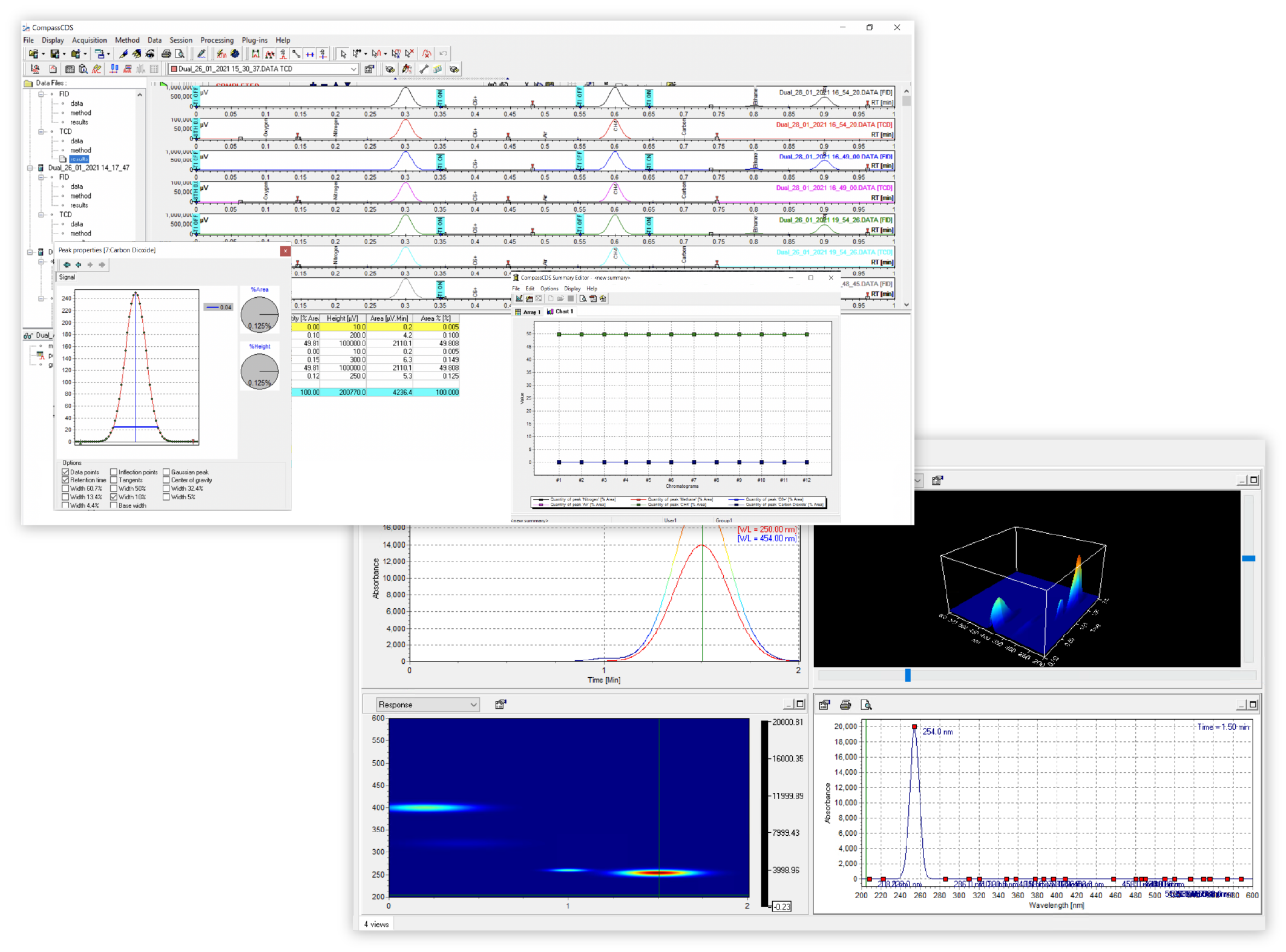 Compass CDS
CompassCDS is an industry-proven, powerful and operator friendly networked chromatography data system software solution developed throughout the last 20 years according to requirements of our customer base. With its intuitive, easy-to-use and application and information-rich user interface and its unique capacity for customization, CompassCDS provides operators with a powerful tool for a variety of operations in different analytical fields.
Available as a standalone or fully networked client/server application, CompassCDS meets the broadest spectrum of customer's requirements. The CompassCDS product suite includes a number of industry-specific plug-in and add-on modules for specific calculation and reporting, and long-term archiving of raw and meta data. It integrates easily into the existing IT environment and seamlessly interfaces with LIMS, ELN, ERP (SAP) and PCS/SCADA in order to facilitate, accelerate and automate data exchange, and helping to lower per sample costs and increase overall efficiency of the whole development and production process, starting from R&D over IPC to final QA/QC.
CompassCDS – the always ideal CDS solution for any analytical laboratory!
The Next Generation CDS
User friendly, intuitive and information-rich user interface

Application-specific plug-ins and add-ons

Extended custom calculations and reporting

Multi-vendor GC and LC instrument control

Scales from local workstation to enterprise-wide client/server installations

Robust design for 24/7 operations

Secure, centralized system administration and data management

Secure, highly configurable and support redundancy

Seamless integration with LIMS, ELN, LES, SAP/ERP, SCADA/PCS using the Sample Streamer 

Optimized for virtualized environments (VMWare, Hyper-V) and MetaFrame rollouts (Citrix, Window TS, RDP)

Complies to national and international regulations and guidelines (21CFR11, ISO/IEC 17025)
Our CompassCDS is compatible with and can provide support for:
SCION's own and legacy products:
SCION 8300 and 8500 GC
SCION 436 and 456 GCs and Analyzers
SCION LC6000, Uv/Vis, DAD, RI, Fluorescence detectors
Bruker 436, 456, 430 and 450 GCs
Varian 430, 450, 3800 and 3900 GCs
Other instrument manufacturers:
Agilent Intuvo 8890, 9000, 7890 A/B, 7820, 6890/6850, and 5890 GCs
Agilent 1100, 1120/1220 Compact, 1200, 1260 Infinity I, and 1260 and 1290 Infinity II LC
Apix Analytical process GC
CTC Pal incl. xt and RTC, RSI & LSI
Valco Serial control valves
Varian Star 800/850 MIB Interface (analog input, relays, RS-232, GPIB)
Galaxie instrument control drivers, and datafiles are supported in CompassCDS, making it straightforward to upgrade from Galaxie to CompassCDS.
See our CompassCDS in action on the SCION Instruments LC6000 HPLC:
Sample Streamer
Sample Streamer is a multi-instrument software package that provides seamless integration of your LIMS/SCADA system to CompassCDS . It provides the tracking and confidence you need, from samples arriving at the lab to results returned and reported. It can program samples across multiple instruments to improve instrument utilisation and efficiency.
Benefits
Save time and eliminate errors
Schedule analyses for any sample on any instrument
Single Screen Control
Optimise Productivity
Supervise Lab Activities
21CRF Part 11 Compliant
Reporting Software for the Hydrocarbon Processing Industry (HPI)
The SCION Instruments Eclipse SIMDIS Software Plug-in automates the data processing and reporting of Gas Chromatography analytical results for petroleum samples ranging from gases up to and including crude oil for DHA, Simdist and Gas Calculation applications.  This software is used with CompassCDS to create the required DHA, SimDist, Gas Calculation and FAME reports.
The example below shows a chromatogram using the Compass Eclipse software plug in, with combined Retention time vs boiling point curve. Eclipse makes it possible to easily obtain the boiling range distribution with different standardized methods, shown in the right handed column of the figure. Learn more about this application.